The Shakespeare's England Explorer Pass
COVID-19 Update
A number of the attractions included with the Explorer Pass remain closed and others require you to pre-book your visit. Please check the latest information before travelling.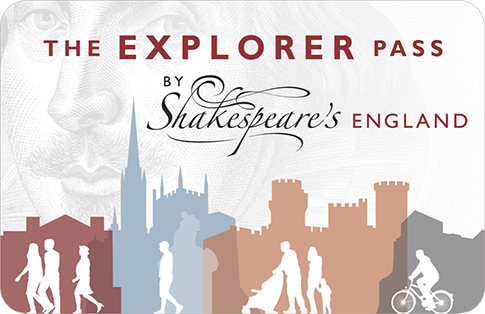 The Shakespeare's England Explorer Pass is an added value pass giving you FREE entry to 18 top attractions across Warwickshire!
Pick a pass duration that matches your visit and simply show your Explorer Pass at any of the attractions included to enter for free.
It is sightseeing made easy!
The Shakespeare's England Explorer Pass gives you free entry to 18 great attractions, tours and museums including:
The five Shakespeare family homes (Shakespeare's Birthplace, New Place, Hall Croft, Anne Hathaway's Cottage, and Mary Arden's Farm)
Warwick Castle
Kenilworth Castle
Shakespeare's Schoolroom
The British Motor Museum
Avon Boating
Shakespeare Distillery
Visit our
Attractions Page
to see the full list of attractions available and details on each.
Top Attractions Included
Take a look at our Attractions Page for the full list of attractions and details on each.
Simply choose and buy your pass, download and start exploring!
Ready to Start Exploring?
Great Value Pass
"This explorer pass is excellent value for money. I purchased online only the evening before we used it, and redeemed at Warwick information centre in the morning. Fantastic value for money. Highly recommend."
Value for Money
"This is an excellent way to see many attractions and save money into the bargain. I would recommend this to everyone."
The Kids Loved it!
"I didn't know that Warwickshire had so much to offer. There is so much more than just the historic elements - we really loved the how The Explorer Pass introduced us to a great mixture of attractions and the kids loved it!"
Highly Recommended
"I'm a huge Shakespeare fan, so I wanted to experience as much of Warwickshire as possible - having The Explorer Pass was one less thing to worry about, no need for cash or remembering the tickets - we definitely saved money on entry fees also. Highly recommended."